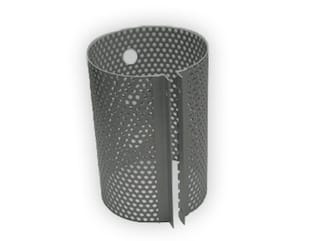 Application: General Industrial Use
Material: Perforated Carbon Steel
Secondary Operations: Powder coated finish, post-fabrication; blanked holes.
Dimensions: 6" O.D. x 11"
Other: Three holes are blanked out of a perforated steel rectangle before roll forming. Brackets are TIG welded to the housing to allow bolt-tightening of the finished guard.
Please note: This is not a stock part. We custom manufacture all of our metal filters and strainers to fit the needs of our clients. If you are interested in a part similar to this, or would like to tell us about your specific filter or strainer needs, contact us at 1-877-263-3520 or submit your design.